shift happens
Just hung up the phone a few minutes ago with Patricia Williams, my good friend and customer at HarborOne Credit Union and absolutely had to share what she passed along.   This mindboggling youtube video called "Shift Happens". In less than 3 minutes it hits you square between the eyes with just how fast we are evolving and moving globally and technologically.  Wow! Can't wait for you to see it and share your thoughts. A good way to start off thinking about 2009.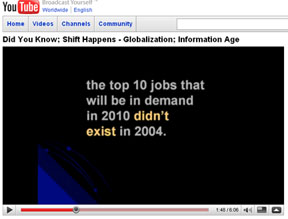 By the way if you live in Massachusetts and you have not heard of HarborOne Credit Union, these guys are the Nordstroms of banking.  Absolutely everything is designed around the "customer experience".  A family-like team after our own heart.  And just like other "experience" giants including Nordstroms, IKEA and LLBean these guys go to great lengths to find innovative and ::play-like:: ways of creating exceptional user experiences.  It's always a genuine pleasure working with them creating videos, technical shows and other creative programs.
And speaking of "shift happening"….HarborOne Credit Union has had a lot of great changes in the last 3 years. Maybe Pat will share some photos of recent happenings for us to post here as they evolve with their changing market.
Leave a Reply